Clicking on "Manage FAQs" you can create your first FAQ.
The very first thing to do is decide whether FAQ has to be basic or choice-based.

---
Basic (text-only)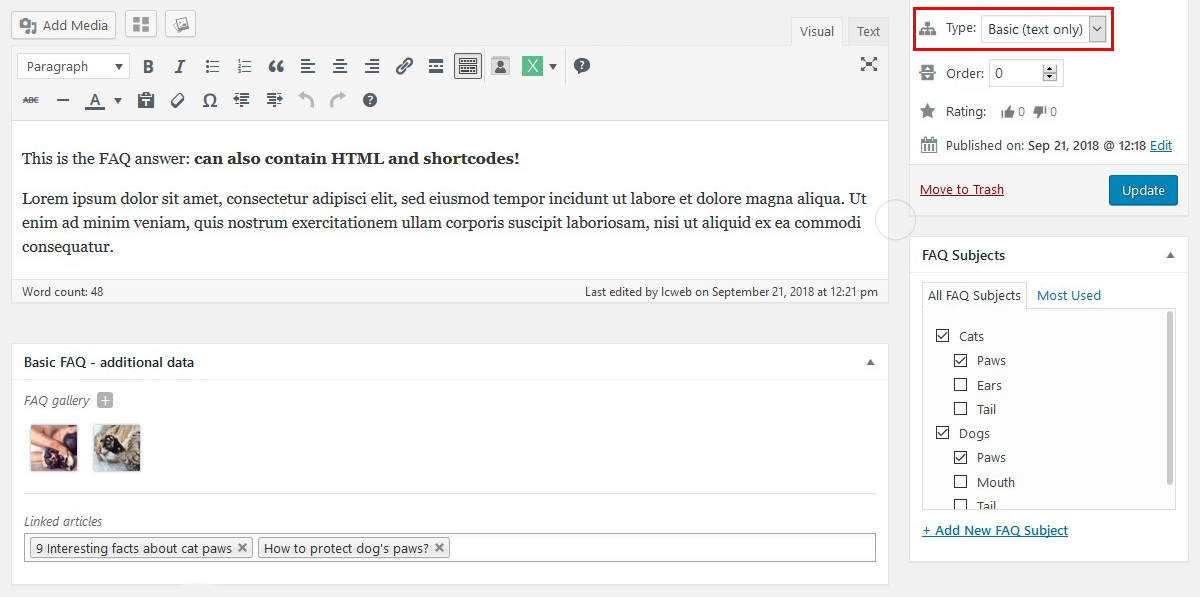 It's the standard FAQ format: question and answer.
Contens can also contain complex elements such as HTML and shortcodes.
Is possible to have a photogallery as well as a "related articles" section containing knowledge-base and external links.
---
Choice-based
Here you can define a true choices tree helping users step-by-step.
Ideally you have to shape the tree basing on the question-to-multi-option principle.
Everything starts with an initial question: while prior FAQ text is optional, you must have at least two answers.
Each answer has also got a consequence when selected:
Text as end

Uses choice's text to end FAQ's flow

Default solution

Uses the "default solution" text to end the FAQ flow (it is defined in settings).
It's ideally meant to show a positive answer to the user (eg. you problem should be solved)

Default user action

Uses the "default user action" text to end the FAQ flow (it is defined in settings).
It's ideally meant to query user to make a custom action in order to solvea problem (eg. your case needs to be inspected, open a ticket)

New Question

You've got to pose a new question to the user, in order to better understand the situation
Each answer may have associated knowledge-base articles, external links and images.
You can use HTML as well as shortcodes within choices description.
---
Common Systems
FAQ Order

Normally FAQs are sorted by title (A to Z), however you can set a custom order by using numbers.
Is suggested to use pretty big increases (10/20/30) to avoid troubles if you want to place a new FAQ between two existing ones.

Search Helper

This is probably the most important parameter after the title: is used in the search algorithm and helps users finding the right FAQ.

Use frequently-used and semantic words. Use anything you prefer to split words: any extra character will be removed on frontend.